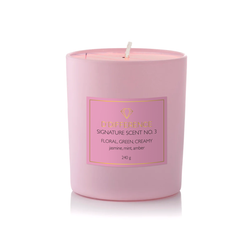 NB! Delivery 2-3 working days!


The Signature Scent No.3 candle smells
like a mild memory of a garden with mixed flowers and herbs growing under fruit trees. It is easy to get lost into this and feel the stories in which silence is intertwined with fantasies.
Volume: 240 g
Use: Burn the candle until the entire surface melts.Keep the burning candle out of the reach of children and animals. Be careful when moving a burning candle - the glass may be hot. Do not burn candles on or near flammable materials. Never leave a burning candle unattended!
Ingredients (INCI): bergamot, grapefruit, green notes, mint, anise, lily, violet, jasmine, white musk, ambergris
COMPOSITION: 100% SOY WAX and PERFUME