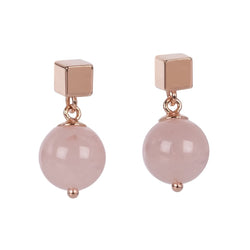 Earrings Solid Rose Quartz
NB! Delivery 2-4 working days!
Solid is simple and clear: circle and square, sphere and cube. Solid is a state of matter. It is characterized by structural rigidity and resistance to changes of shape or volume.

Solid is always a confident choice.
Material:
rose gold plated 925 silver

rose quartz
Measurement:
Gift Box: jewellery arrive in a classy gift box.
MyaŸMoon ehted on lihtsavormilised ja ajatud, need ei konkureeri kandjaga ega nõua spetsiifilist riietusstiili. Värvirikkad kivid annavad sobiva essentsi nii argi- kui pidurõivaste juurde. MyaMooni ehtevalikust leiad vääriskividest ja hõbedast moeehted ja disainer-väikeseeriad.
Tutvu MyaMooni ja teiste Ehestu loojatega...