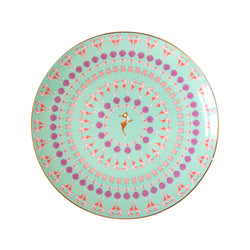 Sun King Porcelain Plate 26cm
NB! Delivery within 2-4 working days!
The heart of the Sun King's porcelain tableware is a golden crowned seahorse, around which eye-catching marshmallow pastels and delicious darks revolve, much like the Sun King's residence in Versailles. These plates fill, especially the ones who eat with their eyes and heart too.

The opportunity to combine dishes with each other adds playfulness to the Sun King series. Every new piece brings out the beauty of others even more proudly. In the series, you find dinner plates, dessert plates, mugs, and bowls.

It's a perfect gift for those who believe in dreams and beauty.
Material: bone china

Diameter: 26cm