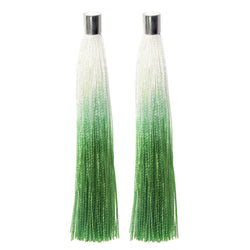 Comet "Icy Green" tassels
NB! Delivery 2-4 working days!
The Comet series offers a lot of colours and playfulness, including 11 different shades of berry and 37 tassels. This gives you the opportunity to find your favourite of the 407 colour combos. The selected Comet earrings can be matched with several pairs of tassels, to give the same earrings a fresh look at any time depending on your mood!

We recommend that you buy several pairs of tassels so you can mix and match.
All wooden berries are painted in Tanel Veenre's studio in Tallinn and the silver details are made of ethical material from Estonia. If the Comet tassels wrinkle, you can straighten them with a damp hand and leave them to dry.
NB! Not wearable as a separate item!
The tassels can only be connected to the Comet series earrings. Cannot connect to regular Earberries.
Length: 80 mm
Material:
Gift Box: the jewellery will arrive in a classy gift box