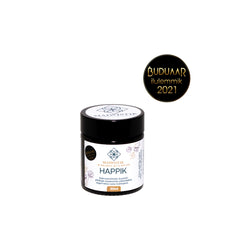 Face and Lip balm "Happik"
NB! Delivery 2-3 working days!
Happik is a deeply moisturizing, rejuvenating and mood-enhancing lip and face balm.
Olive Oil and Vitamin E it contains have anti-aging effect. Beeswax has anti-inflammatory, wound-healing and skin-softening properties.
The ointment includes herbs like meadosweet and horsetail. Meadosweet is anti-inflammatory and promotes skin healing, recovery and strengthening.Horsetail is known for its anti-aging properties due to its ability to help form collagen and restore damaged skin.
Grapefruit essential oil is antibacterial, lifts the mood, refreshes, relieves depression and acne.
Herbazen has used high-quality ingredients and Estonian power herbs. Does not contain any flavoring or preservatives. 100% natural and color is yellow.
Volume: 30 ml
Use: Apply balm on the face or lips.
Ingredients(INCI): Olea Europea Fruit Oil, Beeswax, Filipendula ulmaria extract, Equisetum arvense extract, Citrus paradisi, D-Limonene*, Citral*, Linalool*(*in essential oil).