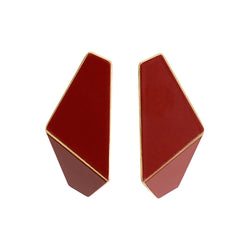 Folded Slim Earrings "Purple Red"
Geometric and straight, colorful and fresh – FOLDED is the most successful series of Lisa Kroeber Jewellery. You can have three different shapes of FOLDED earrings as well as FOLDED bracelets, necklaces and brooches. You can choose between a huge range of colours – something for every outfit, for every taste, for every season.
FOLDED SLIM earrings are extremely light and easy to wear, so it's the perfect choice for every day plus they give you an unique look for the evening.
Size: 3.4 x 1.9 cm
Weight: 4 g per piece
Material: 
powder coated brass
backs from sterling silver 925
Gift Box: the jewellery will arrive in a classy gift box