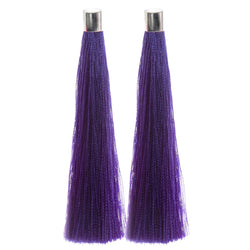 NB! Delivery 2-4 working days!

COMET is all about the joy of colors and playfulness. This series allows you to create your own statement earrings playing with 10 colors of earberries and 10 different colors of tassels. You can choose several tassels to give a fresh look to the same earberries. Each tassel is hand-painted which makes the colouring unique.


NB! Not wearable as a separate item!
The tassels can only be connected to the Comet series earrings. Cannot connect to regular Earberries.
Length: 85 mm
Material:
Gift Box: the jewellery will arrive in a classy gift box