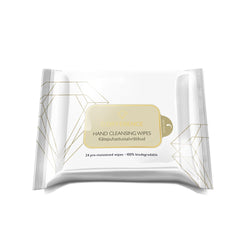 NB! Delivery 2-3 working days!


Efficient
 yet gentle hand cleansing wipes for daily use or when travelling. The soft wipes contain 72% alcohol, are enriched with water-soluble and caring oils, pantheon and surfactants to ensure good cleaning performance and efficient care. The wipes have a mild scent, soothing and moisturising effect. 100% biodegradable viscose hand wipes are ultra-soft and durable.
The ingredients are of natural origin and VEGAN. The product does NOT contain parabens, silicones, mineral oils, PEG compounds and dyes.
Volume: 24 pcs
Use: Open the package and pull out a towel for immediate use. Clean the skin by rubbing your hands for 15-30 seconds and continue with normal care. The towels are for single use only. The towels are suitable for the whole family.
Ingredients (INCI): Alcohol 72%, Aqua, Betaine *, Babassu Oil Glycereth-8 Esters, Panthenol, Sodium Lauryl Sulfoacetate, Disodium Laureth Sulfosuccinate, Perfume
* ECOCERT certified