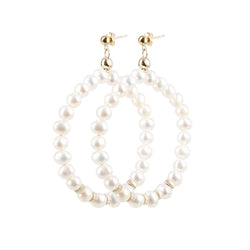 Hoops Earrings "Pearl" Classic
Pearls symbolize purity, innocence, honesty, wisdom and integrity – all the best within us. Pearls help to advance wisdom and stimulate your femininity together with self acceptance. They lift your spirits and make you feel calm and beautiful. They remind us to walk with Dignity.
NB! delivery 2-4 working days

gold filled or silver 925 
pearls

Size: These hoops come in three sizes (Mini, Classic and XL) – do check out all the sizes and pick the one that fits best with you!
Gift Box: jewellery comes in a classy gift box